RODEON Scan
L.A.M.B.E.R.T.
RODEONsmartscan
RODEONmetric Modeler
RODEONmetric Modeler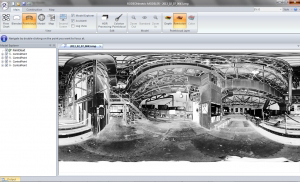 The intuitive All-in-One software to process your point clouds: Measure in the panorama, model your objects and directly export complete 3D objects!
The RODEONmetric Modeler uniquely combines Laserscan data with photographically recorded images from the same standpoint. During navigation within the clear, high-resolution 2.5D color picture and the selection of objects, the software automatically associates these objects with 3D data. The work-intensive navigation and selection in three-dimensional point clouds is not longer required.
Due to the innovative laserphotogrammetric approach, not only CAD objects and surfaces can be created. Even perspectively correct image rectifications (pictures of facades, Ortho photos) and survey photographs, like they were only accessible by Multiple picture photogrammetry and specialised software products.
Technical Specifications:
Compatibility
100% compatible with all major CAD, 3D Modelling and Forensics software such as: SceneVision 3D, Autodesk AutoCAD, Autodesk 3DS Max, Bentley MicroStation, VIS-ALL 3D, MapScenes Forensics CAD, Crime Zone by CAD Zone



IMPORT File Formats:
Point Cloud: PLY, PTS , PTB, ASC, RPC
Image : RAW, TIF, JPG, PNG, BMP

EXPORT File Formats:
Point Cloud: PLY, PTS , PTB, ASC, RPC
Image : TIF, JPG, EXR
3D CAD: VRML, DXF
2D Floor Plan: DXF
Project File: PTGUI, Autopano, Papywizard (XML)